Atnaujinta Ketvirtadienis, 04 Kovas 2010 11:37
Darbų prie langų eilės tvarka: » lauko palangės kronšteinų tvirtinimas » šiltinimo medžiagos tvirtinimas »jei įmanoma, langų sulyginimas » lauko palangės tarpiklio instaliavimas » lauko palangės tvirtinimas prie kronšteinų ir rėmo » tarpiklio instaliavimas sujungimo vietoje tarp lango rėmo ir lango šono šiltinimo medžiagos » lango šono šiltinimo medžiagos klijavimas » polistireno kampo išpjovimas ir šlifavimas » kampinių profilinių detalių armavimas » angų kampų diagonalės armavimas.
Lauko palangės ir lango rėmo sujungimo vietos tarpikliu naudojama bitumo ir poliuretano medžiaga. Pasirenkant tarpiklio storį reikia stebėti, kad plyšio pločio ir tarpiklio storio santykis nebūtų didesnis nei 1/3, kitaip sakant, 3 mm pločio plyšiui užpildyti tinka tarpiklis, kurio storis išbrinkusioje būsenoje yra mažiausiai 10 mm.
Po to klijuojama lango angos šono šiltinimo juostelė. (Ant lauko palangės galo ir lango rėmo tarpiklis jau užklijuotas). Po lango angos šono šiltinimo juostele lauko palangės galas neturi išsikišti. Klijuojant lango angos šono Šiltinimo juostelę reikia stebėti, kad šiltinimo juostelė nesiektų fasado paviršiaus. Tai sukurtų papildomąįtempimąaplink angą. Klijams išdžiūvus yra pats laikas išpjauti angos kampą ir jį nušlifuoti.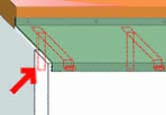 Lauko palangė tvirtinama prie anksčiau instaliuotų kronšteinų.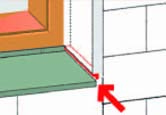 Prieš dedant lauko palangę išpjaunamas atitinkamo dydžio šiltinimo medžiagos (2x2 cm) lopinėlis. Tarpiklis dedamas ant lauko palangės galo ir krašto, kuris užpildo tarpelį tarp lango angos šono ir lauko palangės galo.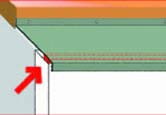 Po instaliuojama lauko palange tvirtinamas bitumo ir poliuretano tarpiklis, kad vėjuotą žiemos dieną į sistemos vidų nepatektų sniegas.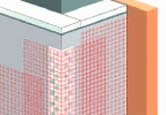 KAMPINIŲ PROFILINIŲ DETALIŲ INSTALIAVIMAS
Visi šiltinimo sistemos vidaus ir išorės kampai turi būti sutvirtinti kampinėmis profilinėmis detalėmis. Iš profilinių detalių sudaromas 90 kampas. Jei reikia, be kampinės profilinės detalės ant lango angos Šono tvirtinama dar ir stiklo pluošto juostelė. Sujungimo vieta su lango rėmu užpildoma poliuretano tarpikliu.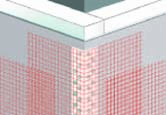 Ant šiltinimo plokštės profilinės detalės apačioje dedamas armavimo mišinys. Po to profilinė detalė tvirtai įspaudžiama į armavimo mišinį taip, kad mišinys prasiskverbtų pro profilinės detalės angas ir tinklą. Po to paviršius lyginamas šepečiu iš nerūdijančio metalo, tuo pačiu stipriai profilinę detalę spaudžiant prie paviršiaus. Skiedinio likučiai pašalinami.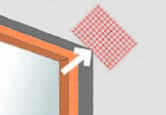 Visų angų kampus reikia papildomai armuoti šarmams atspariu stiklo pluošto diagonalės armavimo gabalėliu arba tinklo juostele (matmenys apytikriai 20 x 30 cm). Taip pat reikia papildomai armuoti nišų, arkų,stulpų ir kt. kampus galimos elementų tarpusavio įtampos vietose. Diagonalės armavimas atliekamas prieš fasado paviršiaus armavimą, tai rekomenduotina atlikti kartu su angos šonų formavimu.
Reikia atkreipti dėmesį, kad formuojant siaurus angos šonus glaisto sluoksnis pakeičia 5-8 mm lango linijos padėtį, taip gali kilti pavojus, kad planuojamame stačiame lango šonų kampe po armavimo gali atsirasti aštrus kampas.
Pastaba: instrukcija paruošta naudoti mira netfix armavimo mišinį (jei naudojate kitą - pirmiausia skaitykite gamintojo rekomendacijas)
Panašūs straipsniai:
Įvertinkite šį straipsnį:
( 3 balsai )